Welcome to St Drostan's Church & Lodge
St Drostan's Lodge provides low cost accommodation in the heart of Glenesk.
The Church is the fourth Episicopal church to be built in Glenesk.
The church is open to visitors every day under normal circumstances, however, during the current pandemic it remains closed except for services.
Church Services;
The 2.30pm Sunday Eucharist will recommence on Easter Sunday 9th April 2023, and will continue to be held at 2.30pm on the second Sunday of the month from Easter Sunday through to October.
For more information about St Drostan's Church, please visit the Church & history page.
Accommodation
The Lodge is ideal for community groups, families, quiet days and meetings.

Please see next pages for more information about the lodge, how to book, and photographs of the facilities.
TGO CHALLENGERS!
Please contact the organisers directly for the services they offer at St Drostan's Lodge during the Challenge!
(Sue Oxley & Ali Ogden - newtonmorehostel@gmail.com 01540 673360)
Lodge payphone telephone number
01356 670284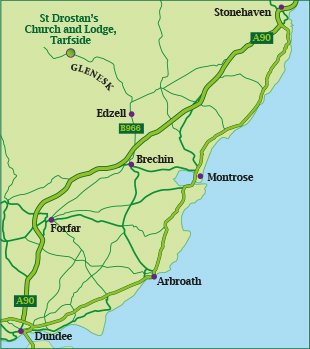 Post code and sat nav - DD9 7YX
To travel to St Drostan's Lodge, take the B966 north from Edzell for 1.25 miles, then turn up the road signposted to Glenesk, Tarfside, Lochlee. 10 miles on, you will find the lodge behind the church, over Tarfside Bridge.